Report presents interview with Israeli Ambassador to Azerbaijan George Deek.
- After the end of the war in Karabakh, a qualitatively new stage began in the history of Azerbaijan and relations with its partners. How do you think, how will the Azerbaijani - Israeli relations develop further? Can we say that friendly relations have gone through all the trials during this period, despite the provocations and attempts to split these relations?
The relations between our countries are like a strong tree: the historic relations between the Azerbaijani people and the Jewish people are centuries old, and are characterized by strong fratenrnity and mutual respect. These are the roots of our tree – they are strong and they run deep.
Then we have the body of the tree, which is the strategic partenship that we have developped between our countries in the fileds of energy and security among others. The relations between the leadership of the two countries are excellent. As President Aliyev once said – what you see is only the tip of the iceberg.
Today, our tree is growing branches that are going higher and higher. These are the relations not just between the countries, but between the peoples. We see it in toursim, in business, in interfaith activity, and in cooperation on the challenges of the future: water security, renewable energy, innovation and hi-tech, and so much more. Together we can achieve what was once unbelievable.
Anoyne who tries to divide between us will quickly realize that this tree is too strong to be split.
- Azerbaijan and Israel have established close cooperation in the field of the defense industry and security. How will this branch of our bilateral relations develop? And why is it causing so much concern in a number of countries?
Traditionally we do not comment on security issues. However, it is importnat to emphasize that our friendship with Azerbaijan is not aimed against any other country.
The Israeli-Azerbaijani friednship should be a reason of celebration, not concern. Here you have a muslim majority country, in a strategic partnership and a warm frindship with the Jewish state. Isn't that the kind of peace and cooexistence we wish to see in this world?
Israel has entered in the last year a new era of peace. We have established dilpomatic peaceful relations with four Arab countries: UAE, Bahrain, Morocco and Sudan. Azerbaijan was among the first muslim-majority countries to establish relations with Israel. We hope that the spirit of peace and cooperation will also prevail in the South Caucases, so that everyone – Azerbaijanis, Armenians, Georgians and others – may live a life of dignity and prosperity.
- Azerbaijan has announced a "large-scale restoration" of the territories liberated from the Armenian occupation. In this regard, the head of state invited a number of countries and companies from these countries to take part in this process. How can Israel contribute? In what sectors is he ready to help Azerbaijan in the restoration of territories? And are there any proposals from the Israeli or Azerbaijani sides on this issue?
After the war I visited parts of the liberated territories. The sight of the wreckage and emptiness was sad. But as President Shimon Peres once said: "where there is nothing, everything is possible". The restoration of the recovered territories is a big challenge, but it's also a big opportunity. Imagine if instead of another traditional town, you can create an innovative space where Azerbaijanis can enjoy good housing, green energy and an infrastructure to help make him an exporter of new products to new markets that didn't exist before.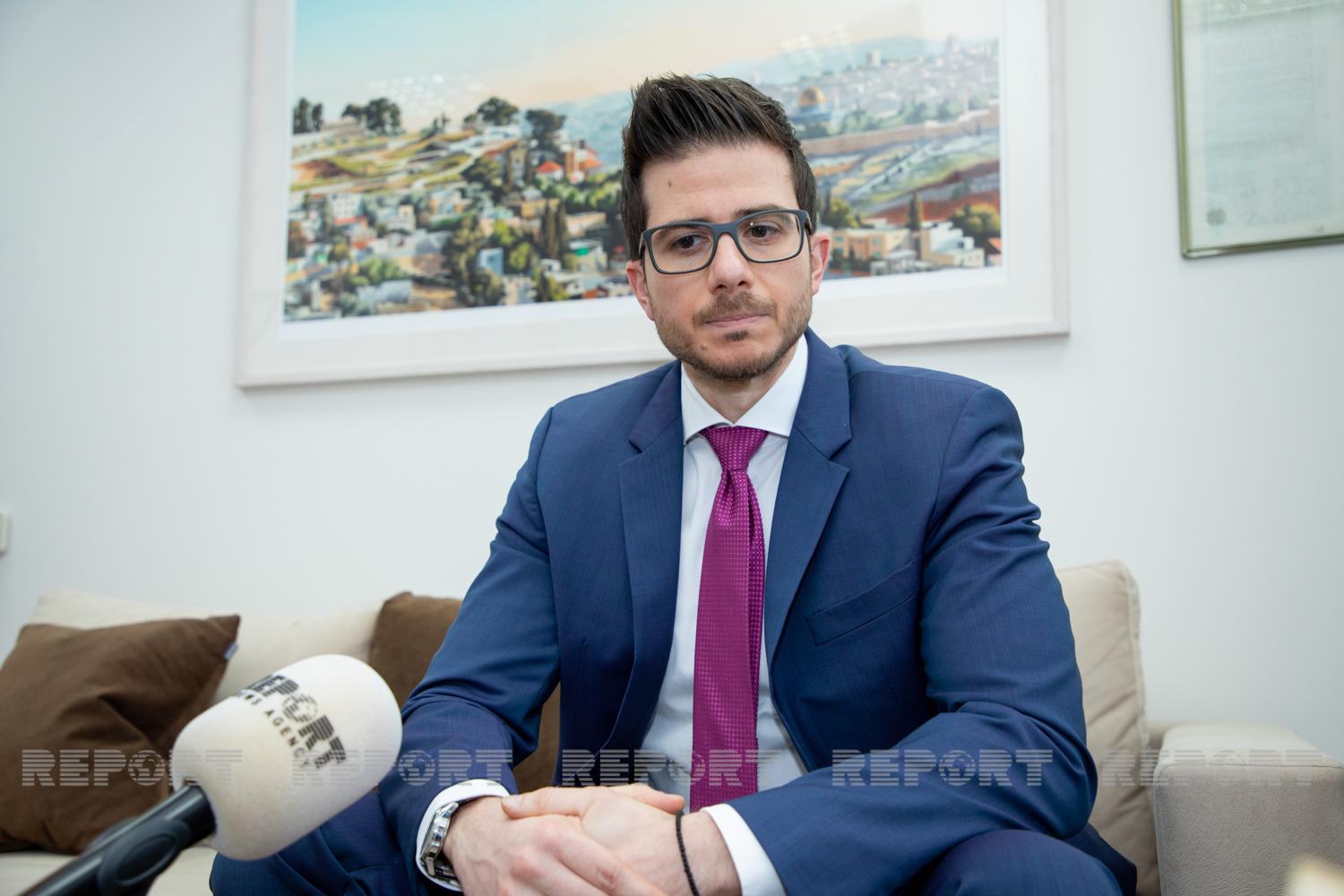 This is where Israel can be a partner. We have a lot of experience working in Azerbaijan and our people understand each other. We can bring Israel expertise in demining, in agriculture, in water, in hi-tech, renewable energy, and we add to that our ability to be practical and work efficiently. Don't forget that we have a lot of experience in creating new ways of living – the Kibbutz, the Moshav etc.
We have already made some presentations to the Azerbaijani government, and we are in discussion about those and other ideas that we have in mind. We took note of President Aliyev's remarks that friendly nations will get the attention of Azerbaijan, and we look forward to having Israeli companies working in these territories.
- During our last conversation, we talked with you about the risks and challenges of the coronavirus pandemic faced by the economies of our countries. Is there any data on the trade turnover between Azerbaijan and Israel for 2020 in comparison with the previous year?
It is not a secret that the pandemic was a big blow to the global economy, and it affected the trade internationally. For example, in 2019 we had over 50,000 toursits from Israel to Azerbaijan who contributed to the airlines, to the hotel industry, and to the local toursim markets. In 2020 there were no toursits, no flights, and hotels were shut down.
So obviously, it was a bod year for the economy. But we are now in the recovery process. Over 90% of Israelis above 16 years old already received at least one shot of the vaccine – by far the leading contry globally. We hope that by April we will finish the vaccination process and be the first country in the world to exit the pandemic crisis. That would allow us to reopen our economy.
I believe that by working together, throught the intervovernmental commission headed by Minister Jabbarov, we can restore the trade volume between us, and make it even bigger than ever before, inshallah.