Interview of Volodymyr Orlov, First Deputy Head of the Dnipropetrovsk Regional State Administration, Ukraine, to Report's Eastern European bureau.
- How do you assess the current level of relations between the regions of Azerbaijan and Ukraine? Which areas should deepen the cooperation?
When speaking about relations between Ukraine, in particular the Dnipropetrovsk region, and Azerbaijan, we should first mention that the total trade turnover amounted to about $ 46 million, which accounts for about 6% of Ukraine's foreign trade turnover. We can still move forward. I want to note that we are very interested in fruitful cooperation between the Azerbaijani companies, businesses and companies and the business environment in Dnepropetrovsk for the development of joint business, the entry of Azerbaijani investment to the territory of the Dnepropetrovsk region. As regional authorities, we are ready to not only assist in going through all legal procedures but also minimize all bureaucratic obstacles to formalize and do business. We all understand that Dnepropetrovsk is the number one industrial region in Ukraine. But I want to mention that we also have a special place in the agricultural sector. Dnepropetrovsk region ranks in the top three in the country in terms of agricultural production. I would even say that it is the number one province in terms of agricultural exports. Therefore, it is possible to find common ground in relations and business with Azerbaijan, and develop it.
- Is it possible for the cities of the Dnepropetrovsk region and one of the liberated cities of Azerbaijan to become sister cities?
- One of the main priorities of the head of the region Valentin Reznichenko is to develop international cooperation. Work is underway to sign agreements on the development of the region. But we all know that the recent pandemic of COVID-19 made it urgent to correct all relations, and things have gone a little out of the way. Now we are trying to restore the necessary volumes. As for the twinning of cities, of course, it is possible. But first of all, both parties - the subjects of our region and Azerbaijan - should be interested in this. For example, if any city in our region appeals to us for help, we are ready to help them in any way.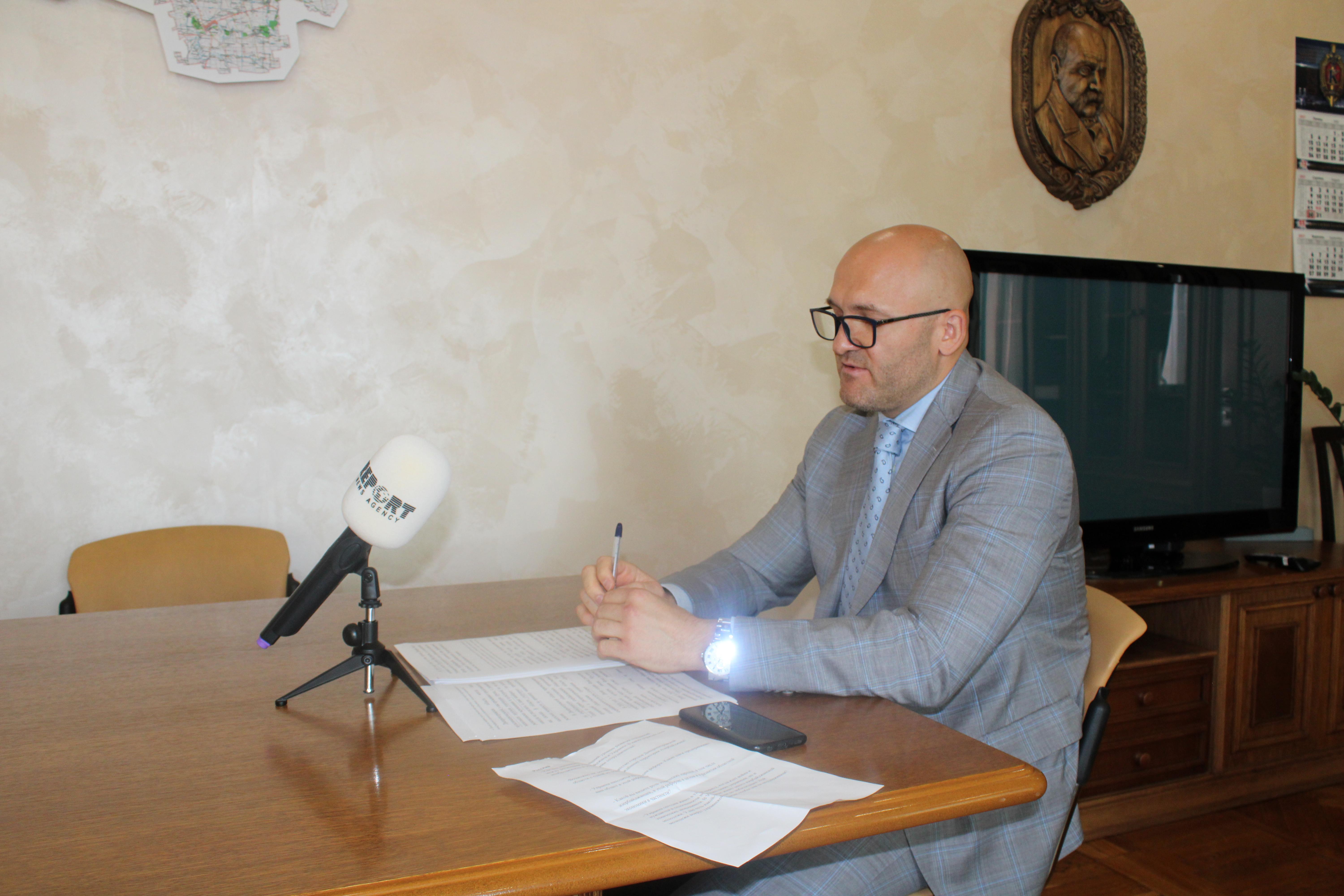 - Ukraine is at the stage of reforms. What steps does your province take within these reforms?
- Ukraine is developing; reforms are carried out. The Dnepropetrovsk region is not far behind this process. First of all, I would like to emphasize the reforms related to decentralization. The process is going at full speed. The second is reforms to attract foreign investment. Our region is in the interest of foreign investors because we have large industrial enterprises and areas. In addition, the region created a very comfortable environment for investors. You had probably seen the development of transport and tourism infrastructure when you came here. In short, we do not stay out of any process. Decentralization reforms in the region are underway rapidly and actively. 86 territorial communities have been established in 7 districts. In addition, the process of transferring communal property to the gromadas for more effective management is underway. Moreover, we are opening an administrative services center. Any document will be provided in the shortest possible time here.
- How do you see the role of ethnic peoples, including Azerbaijanis, in these reforms, including the development of the regional economy?
- Dnepropetrovsk is a multinational region. Tens of ethnic groups with different religious, cultural, and historical backgrounds live here, which do not separate but unite us. There is no nationalism or religious discord in the province. 16 Azerbaijani public organizations have registered in Dnepropetrovsk. One of the first such organizations is the "Azeri" Azerbaijan Cultural Center. In 2016, the Azerbaijani culture development fund named after Muslim Magomayev was established in Dnepropetrovsk. The fund is engaged in the development of culture and sports. The Azerbaijani Diaspora and community are among the leaders in our country in terms of numbers. In 2016, the United Community of Dnepropetrovsk Azerbaijanis, which includes representatives of all Azerbaijani organizations operating in the region, was established. In 2019, one of the Ukrainian streets, situated in Dnipro city, has been named after a well-known operatic and pop singer, compositor, and People's Artist of the USSR Muslim Magomayev.
- Although we often hear that people of other nationalities are appointed and elected to certain positions in the administrative management and election bodies in Ukraine, we can't observe the same tendency in terms of Azerbaijanis. What is the reason for this?
- I would not say so. The mayor of Piatykhatky Raion, Dnepropetrovsk region, Gilal Isayev, is Azerbaijani. As I said, we do not discriminate against people in this regard.
- But, we haven't heard that. It means that the propaganda work is weak.
- Honestly, Isayev is an active mayor and member of the Azerbaijani Diaspora. We closely cooperate with him. I can only say positive things about him. I want to emphasize again that we do not look at people's nationality, religion and culture. If a person can work and people elect him, he will perform his duties without problems.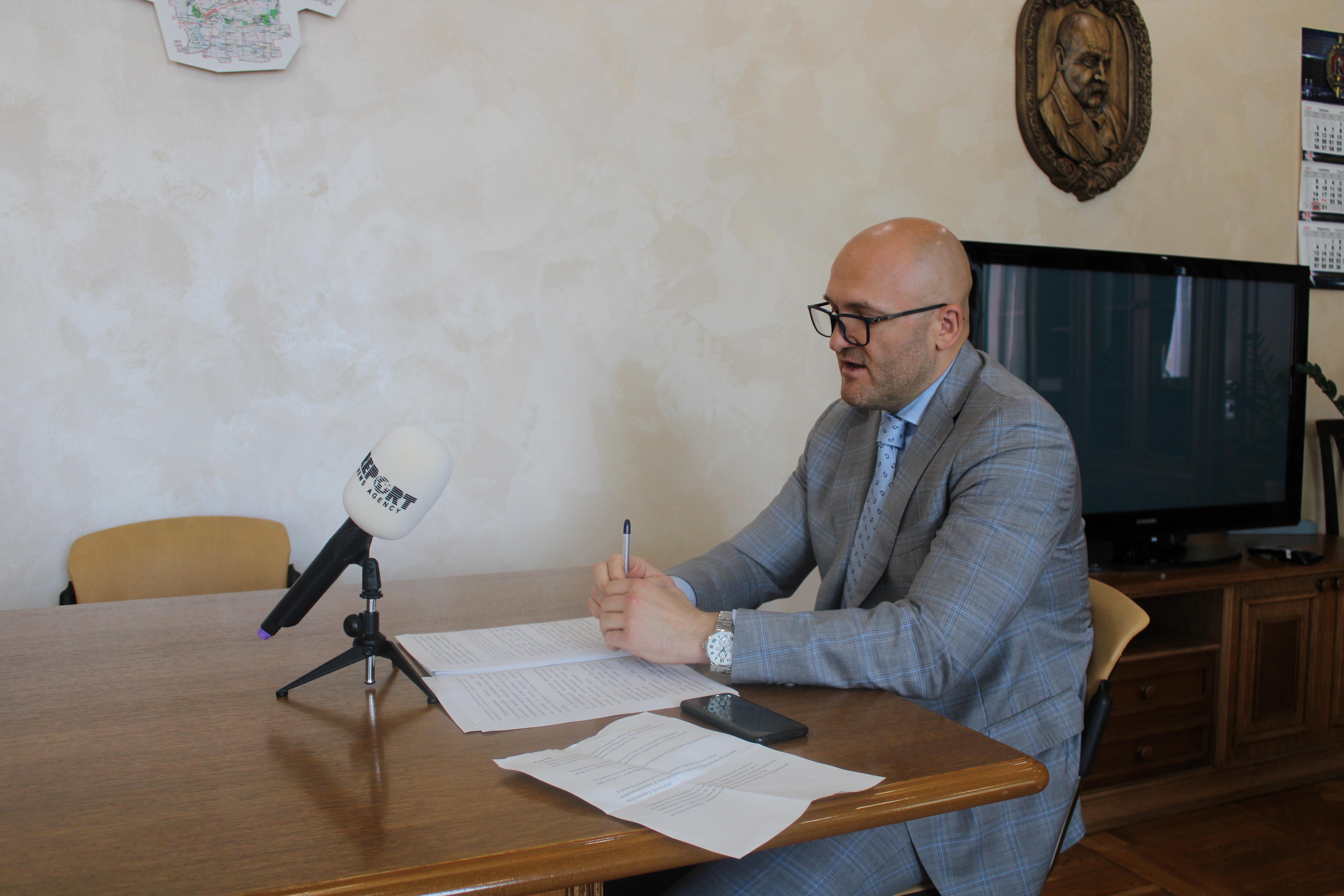 - This question can be considered a continuation of the issue. Today, Ukraine is experiencing a time of war and therefore needs the unification of Ukrainians themselves and ethnic minorities. Many young Azerbaijanis live in Ukraine. Do you have any idea about mobilizing these young people around the realities of Ukraine?
- Youth is such a socially active part of society that it does not need support. If they see the country is developing, they join the process. It is not necessary to direct young people to something. Moreover, favorable conditions have been created in our country for the development of youth organizations. We provide maximum assistance to each of these organizations to involve young people in the development of society. We are ready to work with everyone, which is the principle of our president, the head of the region. We, as people implementing the state policy, are committed to this principle.
- Until a few years ago, Ukraine had a tricky situation; foreign businessmen were attacked, and criminal issues were on the agenda. How is the situation now? Can foreign investors easily invest in the Dnepropetrovsk region?
As the provincial government, I said earlier that we are primarily interested in a favorable investment climate in the province. For this purpose, we hold daily consultations with law enforcement agencies and business representatives. Since law enforcement agencies must protect investors who work honestly and obey the law. In other words, a business must be conducted under the law; we, in turn, must eliminate bureaucratic obstacles and create favorable conditions for doing business. Besides, we constantly monitor the situation with investment and any form of illegal actions that certain criminal elements can commit, and do our best to prevent such unlawful activities in our region. The regional prosecutor's office, national police, and security service tend to cooperate in this direction. I assure you, we will solve all the negative cases.