Foreign journalists visitng Azerbaijan with the support of the Global Journalism Council have presented revelatory materials in the media outlets where they work, Report says.
These reportages, published in leading organizations and electronic information portals of countries such as Spain, Japan, Switzerland, Italy, Poland, Germany, and the United States, featured the bombing of Azerbaijani civilians by Armenians hundreds of kilometers away from the battlefield and showed how the enemy destroyed the liberated settlements.
The world's leading media agencies such as La Vanguardia and EFE, CNN Spain, Economist.com and Alianzanews.com, Kyodo News Agency informed their readers about the suffering of IDPs from Agdam, who have not been able to return to their lands for 30 years.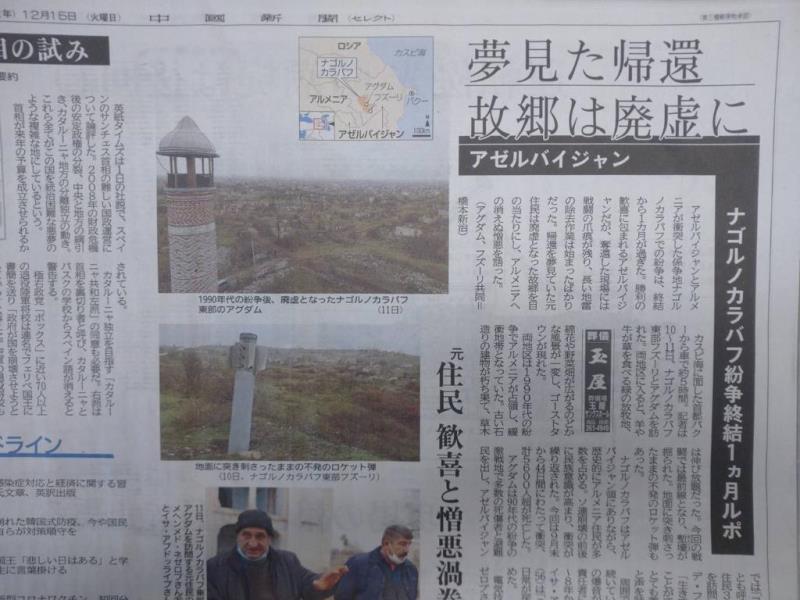 https://www.rsi.ch/news/mondo/Ritorno-in-Nagorno-Karabakh-13676104.html
http://noticias.alianzanews.com/187_america-latina/7230275_los-desplazados-azeries-de-karabaj-piden-volver-a-su-tierra.html
https://www.economist.com/europe/2020/12/19/azeris-return-to-their-ruined-old-homes
https://www.lavanguardia.com/internacional/20201212/6116594/azerbaiyan-busca-modelo-autonomico-karabaj.html?utm_term=botones_socialeshttps://www.lavanguardia.com/internacional/20201213/6116736/azeries-aguardan-regreso.html?utm_term=botones_sociales