Many countries worldwide have actively begun to vaccinate the population against coronavirus infection, and Azerbaijan is among the states where vaccination against COVID-19 is in full swing.
According to Report, after analyzing data on the level of vaccination against coronavirus in the CIS countries, Azerbaijan, as one of the first countries to start vaccination, is ahead of most countries both in terms of purchases and the speed of vaccine use.
Thus, under the national vaccination strategy, the vaccination of people from risk groups began with the use of the purchased 4 million doses of the CoronaVac jab. As of March 26, 2021, some 746,608 doses of vaccines were administered, and 226,000 people were fully vaccinated.
But the coronavirus brings new mutations to the world, leading to a new wave of infections in several countries, which is accompanied by an increase in the death rate. It sets the stage for the introduction of strict quarantine measures. In this case, vaccination can play an important role. If the vaccination rate increases, it will be possible to reduce the rate of mortality and hospitalization, especially among those at risk.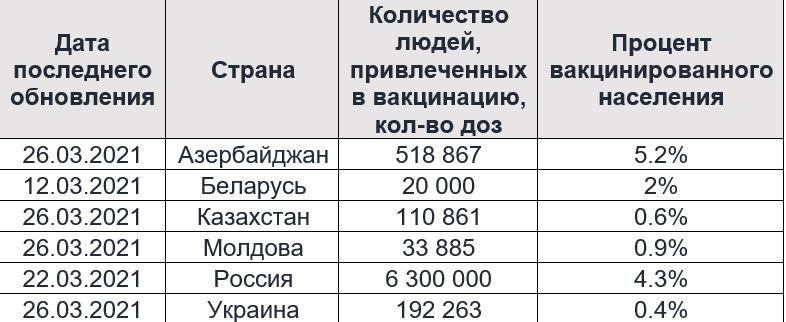 Statistics show that Azerbaijan occupies a leading position in the level of vaccination among the CIS countries. According to open sources, as of March 26, 2021, Azerbaijan vaccinated 518,867 people with the first dose, which is 5.2% of the population, while in Russia, the number of vaccinated is 6,300,000, which is 4.3% of the country's population. The figure is 2% in Belarus, and does not exceed 1% in Moldova, Kazakhstan and Ukraine. Neighboring Georgia has access to 72,400 doses of the vaccine through the COVAX Facility, but only 5,000 people have been vaccinated. Meanwhile, vaccination has not yet started in Armenia.
By the number of vaccinated per 100 people, Azerbaijan is also a leader, second only to Russia. The figures prove once again that Azerbaijan takes a serious approach to the vaccination of the population quite seriously.