Interview of President of the Parliament of the Republic of Moldova, Igor Grosu, to Report's Eastern Europe bureau.
- The security of Moldova has been the main topic of discussion in the world for almost a year. What is happening in your country?
- The events that affect the people of Ukraine, our friends, certainly affect their neighbors. First, the impact was felt in humanitarian issues since the first issue was to help Ukrainian refugees and our Ukrainian colleagues. The number of those who fled to other countries through Moldova, and those who stayed in Moldova, was much higher. These were mostly children, teenagers, women, and old people. Although we did not have experience in managing such a process, I think we managed to cope with this issue. The opinions of international partners also confirm this.
Of course, there is also a security aspect to this. There have also been cases where rockets launched by Russia bombarding peaceful cities and wanting to put people in a difficult situation by destroying the energy infrastructure in winter violated Moldova's airspace. There are other cases of attempts to create instability through pro-Russian parties and the criminal world. Russia no longer hesitates to take advantage of the criminal world or criminal structures connected to special services in its country. Thank God, disruptive plans don't and will not work because we know how to deal with such elements. Of course, we are not alone in this struggle. Our Ukrainian, Romanian, European, and Western partners are with us. Therefore, we can proudly say that despite Russia's attempts to blackmail us with suspension of gas supply, I would say that we coped with the remaining winter very well. They reduced the volume of gas without saying a word, without discussion, without giving reasons. With this, they wanted to put pressure on the Republic of Moldova as we have openly said that we help Ukraine and will do so.
We have a clear European-oriented strategy and we are committed to this strategy. This is the will of the people and it was demonstrated in the last parliamentary and presidential elections. The majority feel that they are a part of the European Union and European culture. Indeed, geographically and culturally, we are a part of Europe. After the aggression of Russia, the world is divided into two fronts. One is the side of the war, which is the dark forces - those trying to do the impossible and restore the former empire or the Soviet Union. The other side is the European Union, where human life is the most important value, where freedom of speech and human rights are at the highest level.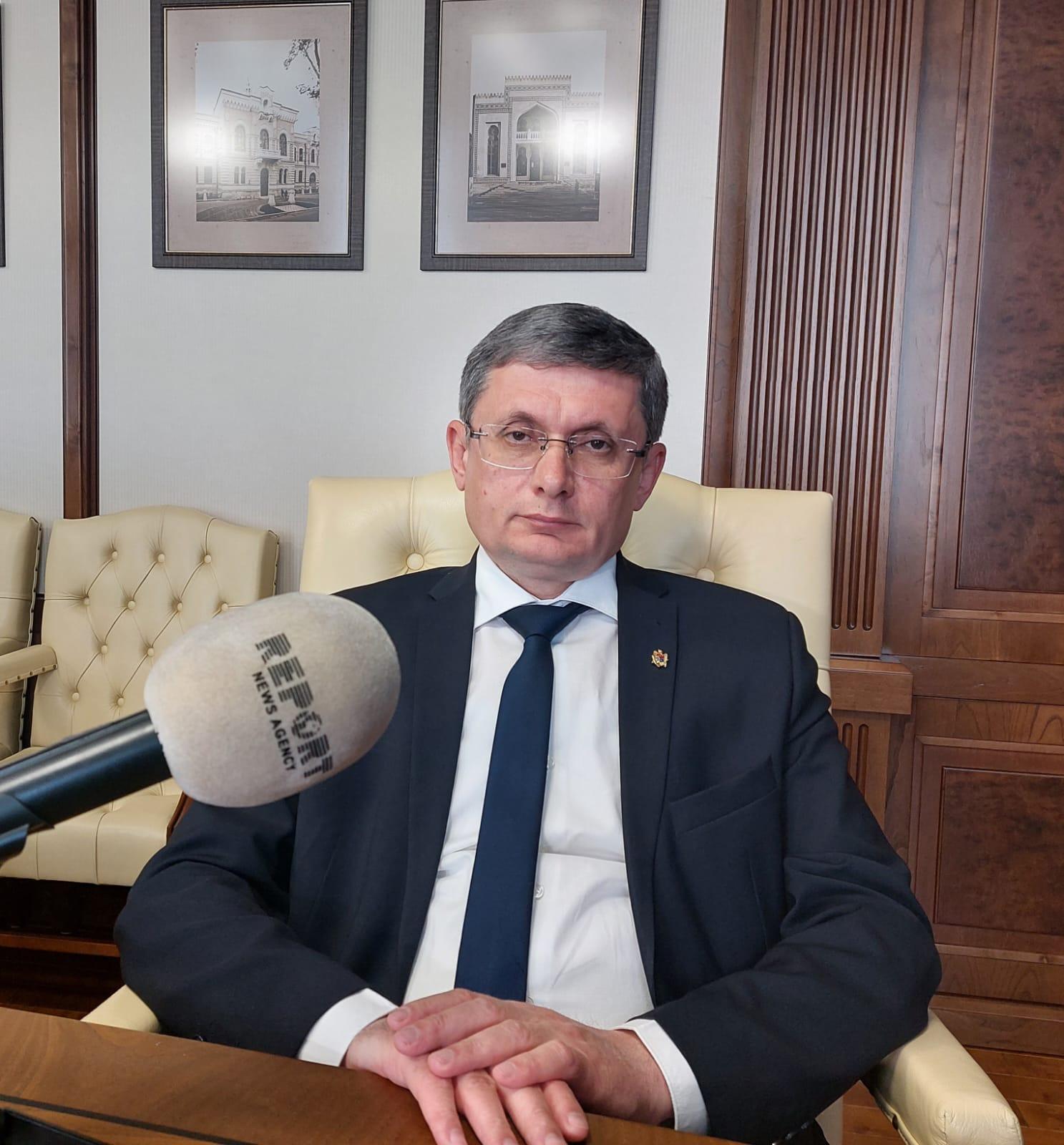 - Against the background of the war in neighboring Ukraine, what specific decisions does the Moldovan parliament take to strengthen the country's security?
- We ratify agreements with the European Union and other countries, including financial assistance, technical assistance, and consulting in various sectors.
- What about the army?
- Within the framework of the "European Peace Facility" program, we have received serious assistance worth approximately 40 million euros for the purpose of increasing the defense potential and better monitoring our airspace. Parliament plays a very serious role when the budget is discussed. In the 2023 budget, we doubled the amount of resources for the military, which is the first such a case in the history of our 30-year independence. Unfortunately, our predecessors did not pay due attention to this issue.
- Can you say the exact number?
- 1.7 billion Moldovan lei. But these funds will be spent on strengthening our defense capabilities and improving the lives of servicemen.
- What about purchasing military equipment?
- It is also. Because what we currently have in our arsenal is Soviet equipment, outdated equipment. We replace them with new ones. In our opinion, this is the right decision and we will support this step in the future. We have already started. We bought "Piranha" armored combat vehicles from abroad. These will replace old Soviet equipment. At the same time, monitoring systems and radars were also purchased.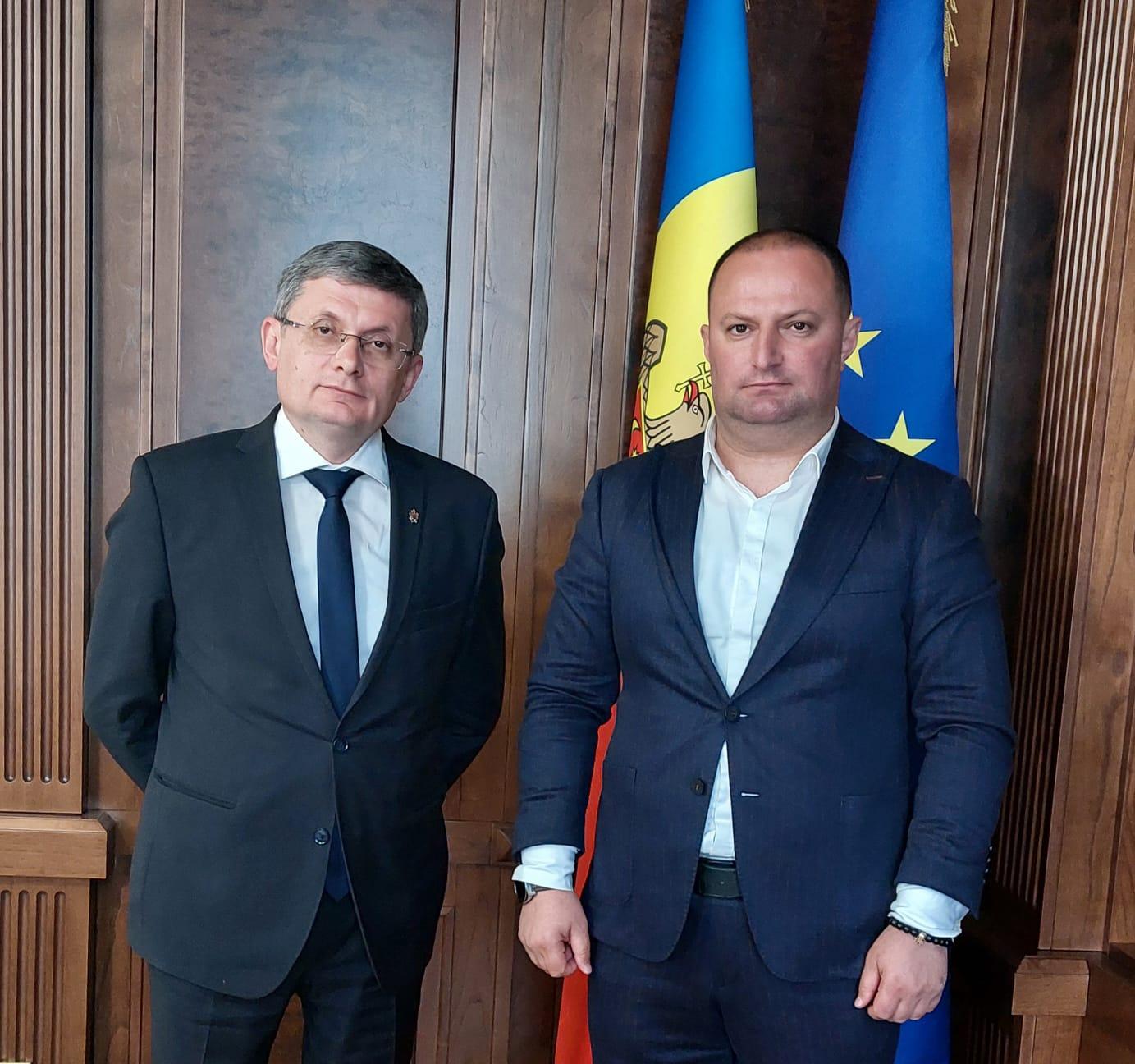 - What do you think, is Russia expected to attack Moldova?
- We do not see a direct threat at the moment.
- Is it expected?
- No, I don't expect. Our Ukrainian friends are keeping them busy on the eastern front, so they have other problems. Currently, they are building fortifications for defense. We are grateful to our Ukrainian friends for preventing them.
- I asked the question because recently we often hear that they are planning to reach Moldova through the territory of Ukraine...
- They don't hide it, I know. This was their original plan. They wanted to capture Odesa and Mykolaiv and go to Moldova. But thanks to the Ukrainian people and the army, this plan did not work. Now they have other problems. So I don't see a direct threat. However, this does not mean that we should not prepare and strengthen our defense capabilities.
- It is said that the political force opposed to the current government in Moldova won the elections in Gagauzia. Given that the current political power of Moldova is on the opposite front, will this not cause political tension between the countries?
- I don't think so. Because the majority of the Moldovan population is in favor of European integration, and recent polls clearly show that the citizens of the Republic of Moldova want a normal life for themselves and their children and integration into the European Union. Together with Ukraine, we were able to get candidate status in a very short time. Even in this difficult situation, together with Ukraine, we are trying to be ready by the end of the year and make a decision on the start of negotiations on joining the EU. It will be a painstaking task. But we are ready. We receive technical-expert support from EU countries - Romania, the Baltic countries, and other countries that have gone through these processes.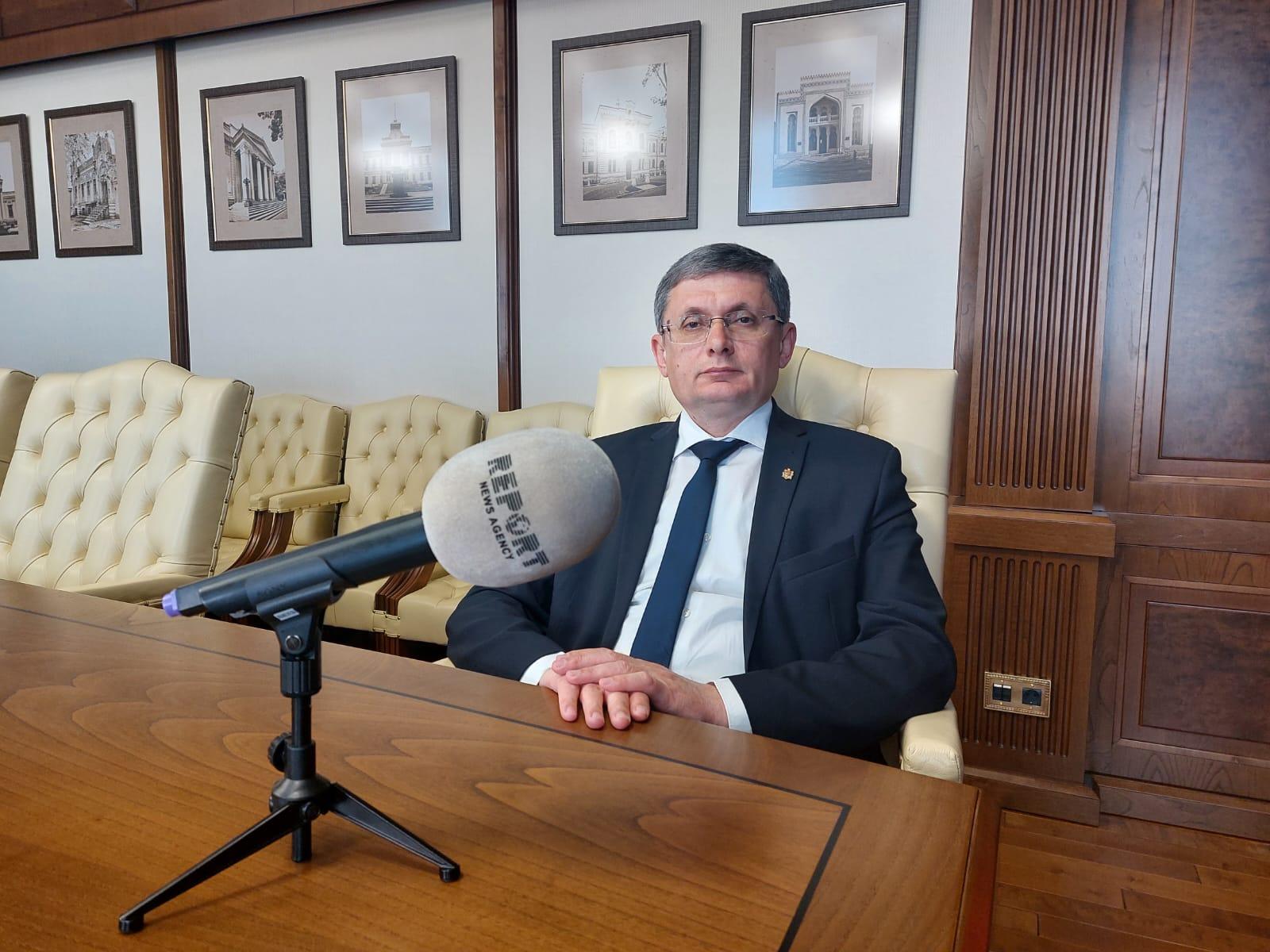 - Recently, we often hear about the unification of Moldova and Romania. How realistic is this? In general, is it expected to hold a referendum on this?
- A part of the population clearly expresses their opinion about this.
- What's your opinion?
- I say that we are one nation.
- So you are in favor of this?
- I am in favor of our unity and the absence of a border between Moldova and Romania.
- Are you in favor of Moldova being part of Romania?
- No, it is not correct to pretend that dreams are real. I prefer to say the reality. What is real is becoming a member of the EU and the border between Moldova and Romania disappearing. Because this border is an obstacle created by the Russian Empire and the Soviet Union. We speak the same language, belong to the same religion, and share the same culture and history. Currently, there is no question of holding a referendum. We are all focused on the process of integration. I can honestly say that this path, that is, European integration, will help us to be together with Romania and the European Union.
- Look, there is no border between France and Belgium. But they are separate states. What do you think about Moldova and Romania, will it be like this or will they unite?
- No, after all, I said, this will be a symbolic border, the one between Belgium and France, as you mentioned. This is a political decision that will not be made out of the blue. Many things can be discussed in society. You see, part of the population wants to unite with Romania, so it is natural to discuss it.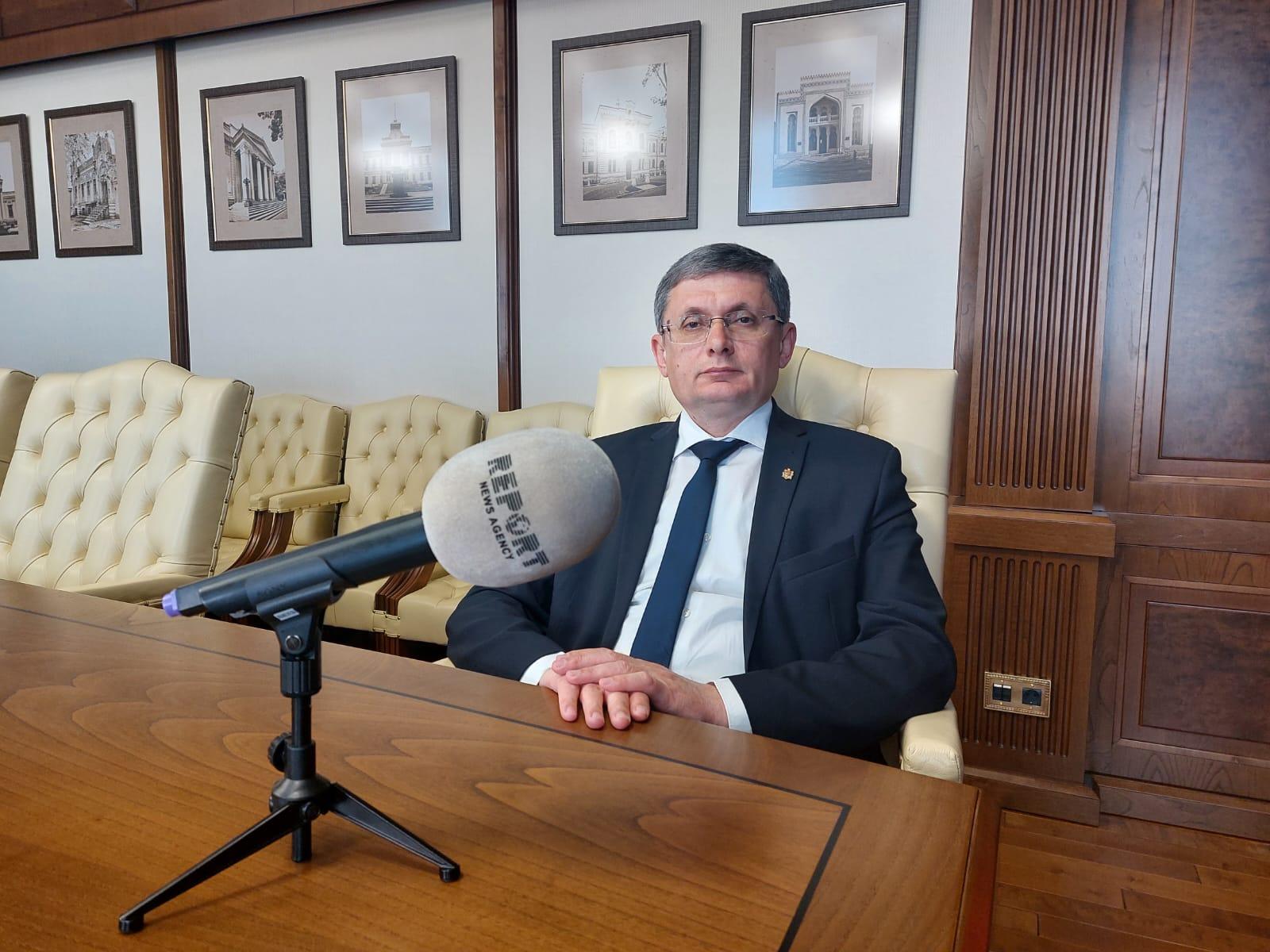 - What is the level of inter-parliamentary relations with Azerbaijan? What new collaborations are expected?
- I wish to deepen the collaboration we have started. We have also started cooperation in the field of energy. In addition, we are actively considering the issue of investment attraction. I have invited the Speaker of the Milli Majlis, Ms. Gafarova, to our country. Now we are waiting for information from the other side regarding the time slot in Ms. Gafarova's work schedule for the trip. When I was in Baku, they received me very well. I even went to Shusha, got acquainted with the restoration and reconstruction works there. Then I invited my colleague to visit Moldova. We will be delighted to see her here.
- How do you evaluate the elections in Türkiye?
- Let's wait for the runoff elections. Türkiye is an important partner for us. At this moment, I do not want to talk about any candidate, I do not want to evaluate. I had the honor of meeting Erdogan, he is a strong personality. But as I said, I don't want to talk about any candidate right now. We wish the elections to be held successfully, peacefully, and without controversy and people to choose the president they want, and Türkiye to continue its role as a guarantee of stability in the region.