Report interviews Israel's newly appointed ambassador to Azerbaijan George Deek.
- How do you assess the current level of relations between Azerbaijan and Israel?
The ties between Azerbaijan and Israel are a strategic partnership. Our relationship has three major pillars of cooperation. First is the energy. As you know, Israel buys 30% of its oil from Azerbaijan. I used to live in Tel-Aviv and worked in Jerusalem. And I used to drive my car to Jerusalem and back home every day. And every time I fill my tank fuel, I could say thank you to Azerbaijan, because I was using Azerbaijani oil. The second pillar is collaboration on security issues. Both countries have close cooperation when it comes to combating terrorism and fighting extremism and violence in the region. The third pillar is something that we are trying to strengthen with time. It is a pillar of businesses and citizens, people-to-people contacts. We have seen the rise of those ties in many fields. For example, in the field of tourism, we've seen an increase from 10,000 in 2016 to 50,000 tourists. We have seen an expansion of cooperation and businesses from Israel coming here in the fields of agriculture, water management, IT, and other areas as well. Since I have come to Azerbaijan, I've met with many ministers, heads of agencies, many people from the private sector, and the more I meet, the more I realize that there is such vast potential for growing our relationship even further.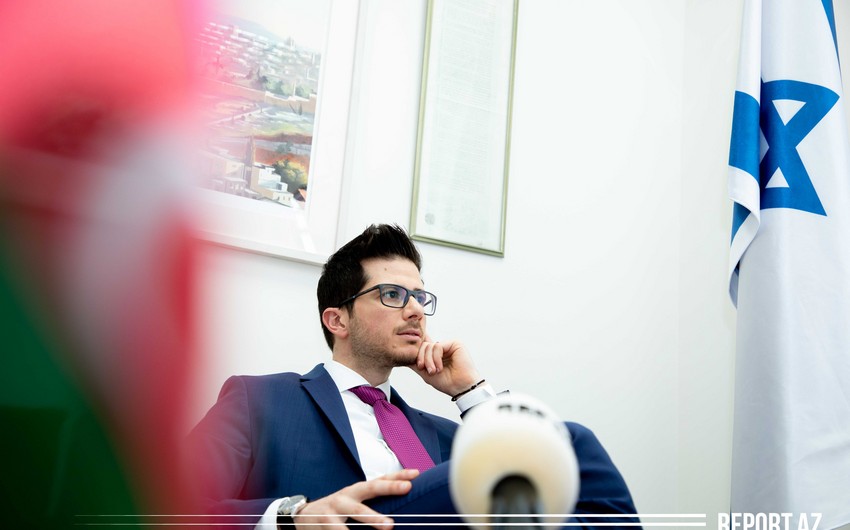 In addition to the cooperation that exists between our two countries, I think there is a lot in the nature that we share. Like Azerbaijan, Israel is a relatively small country, surrounded by a sensitive and complicated environment. We both know the price of conflict; we both understand the meaning of living in a region where you need to juggle between the interests, wills, and ambitions of some of our neighbors. We also understand the need to preserve your sovereignty and independence. Like Azerbaijan, Israel is a country where people from different faiths, religions, creeds, and colors can live and can practice their faith without fear, to be who they are. I am an Arab Christian, and here I am the Israeli ambassador. And it is no coincidence. They sent me to a country that symbolizes in many ways the ability of people of different religions and backgrounds to live in an open, tolerant, and violence-free society. I think all of this compasses our relationship, the nature of our states, and, of course, the deep history of the Jewish population that lives in Azerbaijan. I was in Guba last month, and I met the Jewish community in Krasnaya Sloboda.
You cross the bridge, and suddenly you see the two synagogues and a museum of Jewish heritage. They feel free with their kippah on their heads; rabbis walk around freely without any security. Before that, I lived in Norway. To enter a synagogue in Oslo, you had to pass security checks; you go through steel doors. And when I went to Guba, and I went to the synagogue, there was no guard at the door, someone with a simple key opened it, and we all went in. And it blew my mind that what is impossible in many places in Western Europe is taken for granted in Azerbaijan. So, I think many countries could learn from Azerbaijan how to be such a place, where Jews, Christians, Muslims, Bahais, and others can live openly and practice their faith without fear and be free from others.
This is proof that both Azerbaijan and Israel are proud and sovereign nations that do not let anyone from the outside dictate them. I think it's in the highest interest of both countries to continue to be sovereign and independent nations. Azerbaijan is probably the only predominantly Muslim country, which is friendly to Israel.
Once again, Israel has a strategic partnership with Azerbaijan, including defense and security. That will not change, and we will continue to be strategic partners on all fronts. The relationship that we have with other countries will never affect the relationship with Azerbaijan. Regardless of which embassies are opened in Israel, the bonds between our two nations are stronger than any political party, any partisanship, and any other relations.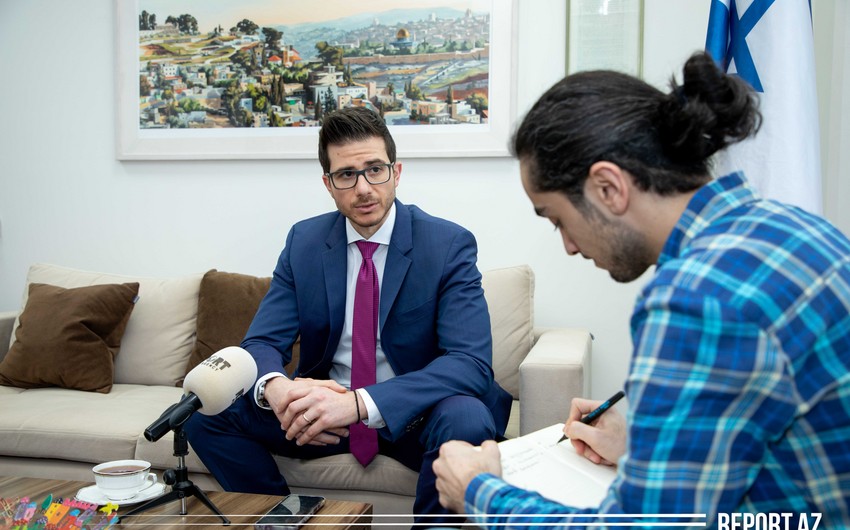 - At what stage is the work of the intergovernmental commission? Are mutual visits expected as part of this cooperation and other formats?
Well, we've had, for example, a minister from Israel who was supposed to attend the Baku Global Forum this month. Unfortunately, the forum was canceled, and I believe that international travel by high officials, in general, will not be feasible in the next few weeks because of coronavirus… However, we are happy that the intergovernmental commission headed by minister Elkin from Israel, and minister Jabbarov from Azerbaijan is very active. There has been a lot of progress and a lot has been made within the framework of the commission. Azerbaijani officials visited Israel about two years ago, and Israel should also arrange trips to Azerbaijan at some stage. It was postponed and dilated last year because we've had several circles of elections. So, we were always hoping that once a new government is formed, we would be able to hold a visit. Since I've come here, we've been working relentlessly to take a trip. We just had the elections several weeks ago. Hopefully, as soon as we see the end of coronavirus pandemic, the Israeli delegation will, Inshallah, visit Azerbaijan in that context.
- The development of alternative spheres of the economy becomes relevant amid the coronavirus pandemic and decline in oil prices. How can Israel contribute to the development of these spheres in Azerbaijan?
The oil prices that we see today are a result of various epidemics and geopolitical factors. It is truly a warning. Oil prices are very low. But I'm sure that the government of Azerbaijan has done a lot of planning and preparations. This is why you have SOFAZ; you have your institutions to try to counterbalance the economic shock. I have full trust in Azerbaijani authorities doing their best. What we can do from our side is to see if there is anything to contribute in the long term in terms of renewable energy. I know that Azerbaijan is investing a lot in developing the alternative energy sector, including solar and wind. When it comes to solar energy, Israel has 60 years of experience. This is something that I have discussed with the ministries of energy and ecology of Azerbaijan and other relevant counterparts here in your country. We hope that Israeli companies and experts can contribute to this sphere. But I have to say Azerbaijan also has something to add to us. In that respect, both sides could benefit from cooperation in the field where we can work together and learn each others' experience and talk to each other both on the level of business and governments.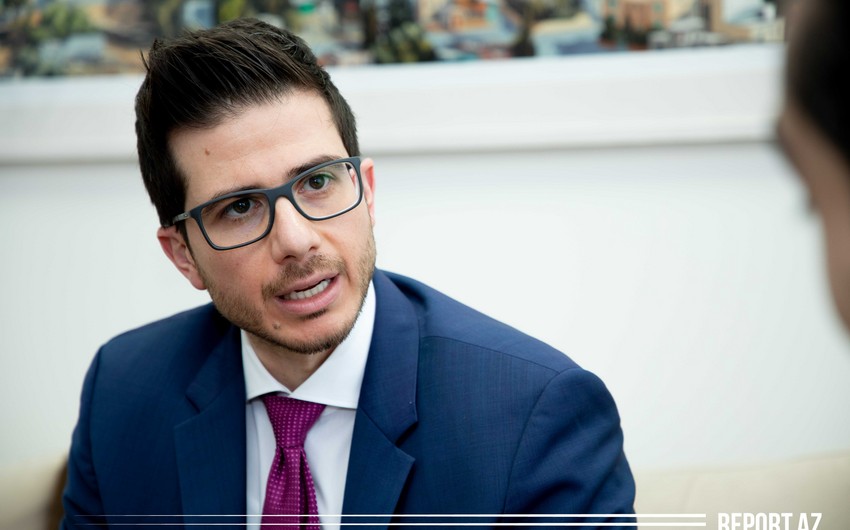 - Our region is currently going through difficult times. How do you assess the situation, mainly, through the prism of restoring relations between Israel and Turkey, Azerbaijan's role in this process, and the overall state in the region?
Israel and Turkey used to be very close friends. We had an amicable and open relationship, and we cooperated in many spheres. It's important to note that Israel and Turkey still have diplomatic relations; we have growing tourism. Turkish airlines are still the most active airline company working at Ben Gurion airport in Tel-Aviv. Businesses between our countries are growing. In fact, this year the trade between Israel and Turkey went up. It's no secret that at the political level we've had many challenges. My hope is that one day we will come back to being close friends and continue this cooperation. Azerbaijan is in a unique position in that sense because we have a deep understanding between our peoples. At the same time, Azerbaijan and Turkey have a very historic and robust bond. So, I think Azerbaijan can help both sides to understand the minds and what is driving the other to this relationship, and maybe Azerbaijan could also help both countries come together back again. We and I look forward to the day when the relationship between Ankara and Jerusalem will go back to being the same that we had 15-20 years ago – sincere, friendly, and warm.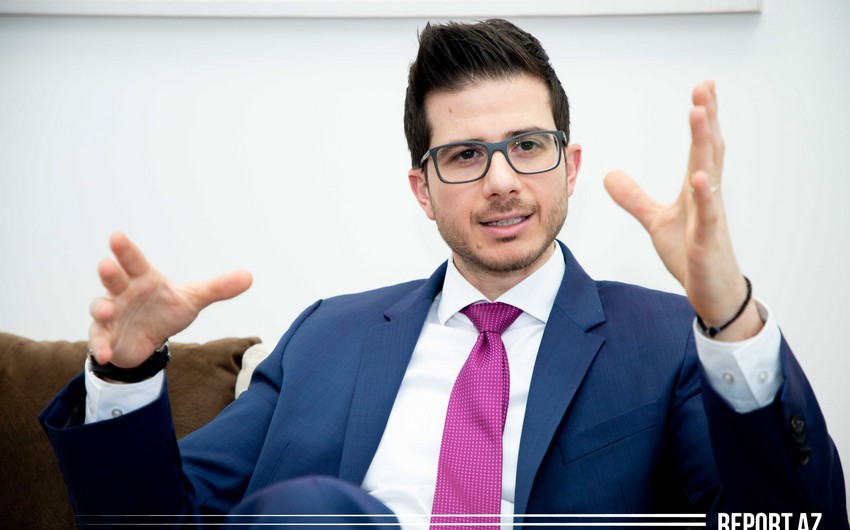 Iran right now is dealing with a major outbreak of coronavirus. Hundreds of people have already died in this country; thousands of others are infected. Our heart goes out to the Iranian people that they have to suffer from such a tragedy. Iranian people are our neighbors and friends in this region. We genuinely wish them the best in trying to recover and overcome this outbreak. Coronavirus is already a global pandemic and no one should suffer from his government's failure to deal with that crisis. And I think it's regrettable that the Iranian government spent the people's money on funding proxy groups outside to destabilize the region instead of spending it for Iranian people's benefit.
Iranians deserve much better: a life of dignity, health, and prosperity. We are reaching out our hands to Iranian people and are even ready to help them fight the coronavirus.
- As you know, the Nagorno-Karabakh conflict is one of the main problems and tasks facing the foreign policy of Azerbaijan. How do you assess the role and position of Israel in this issue?
Israel fully supports Azerbaijan's territorial integrity. Our position on this issue is clear. We hope that both sides can reach a peaceful resolution through negotiations. We support the efforts of the OSCE Minsk Group co-chairs. We believe that talks, dialogue, and conversations between the two sides are the best way to reach any solution in any conflict. We do hope that Azerbaijan and Israel will never need to raise weapons again.