Report presents an interview with Belgium's Ambassador in Azerbaijan Michel Peetermans
Which sectors play a vital role in cooperation between Belgium and Azerbaijan?
Belgium and Azerbaijan maintain sustained official relations at different levels. Minister of Foreign Affairs of Azerbaijan Jeyhun Bayramov has met his Belgian counterpart, Deputy Prime Minister and Minister of Foreign Affairs Sophie Wilmès in December 2020. Political consultations are also foreseen at the level of Vice-Minister or Director-General, normally every two years. The last consultations were held in Baku in May 2018. Unfortunately, the Covid-19 pandemic has limited the possibility of organizing physical meetings, but I hope we will be able to plan the next consultations soon. Since my arrival in Baku in August 2021, I have noticed developments in the field of parliamentary dialogue as well, marked by a meeting between the speakers of both chambers of the Belgian Parliament, Mrs. Eliane Tillieux (Chamber of Representatives) and Mrs. Stephanie D'Hose (Senate) and their Azerbaijani counterpart, Mrs. Qafarova. On the 1st of October, the Chairs of the inter-parliamentary friendship group, Mr. Tim Vandeput (Belgium) and M. Kamal Jafarov (Azerbaijan) met in Brussels.
Belgium attaches also a great importance to its membership of the European Union. As you know, Brussels hosts the European Commission and the European External Action Service. Our Embassy works in close coordination with the EU Delegation in Baku, in the spirit of what we call "Team Europe". I would like to stress the fact the framework of cooperation between EU member states and Azerbaijan is to a large extent determined by EU legislation and policies, such as the EU-Azerbaijan Partnership and Cooperation Agreement and the Eastern Partnership. A new, more ambitious EU-Azerbaijan bilateral agreement is under negotiation, and we hope that it will possible to finalize it in the coming months.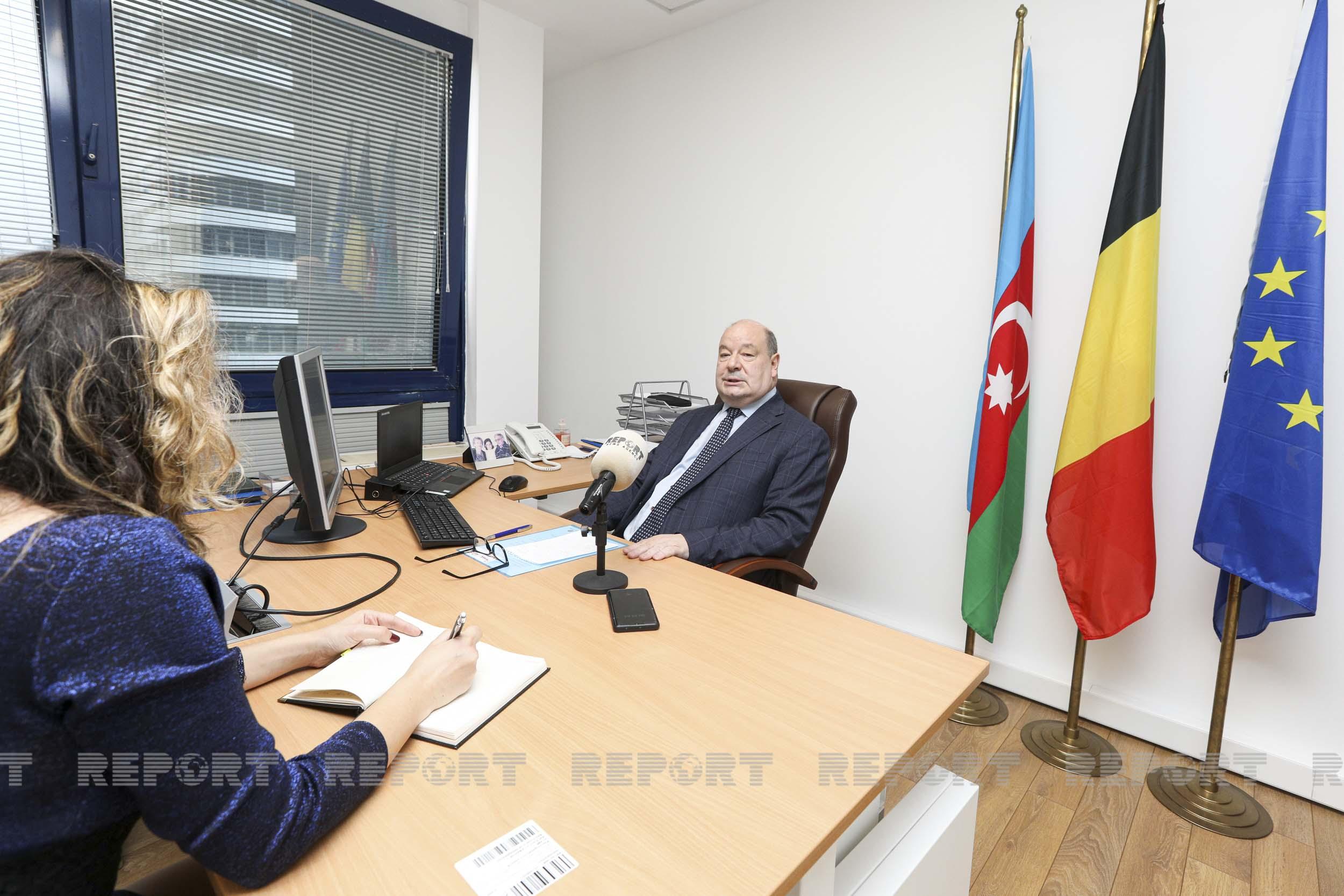 The role of the Embassy is also to promote and facilitate people-to-people relations. Belgian universities are keen to attract Azerbaijani students wishing to complete their training abroad. Apart from the high quality of education, studying in Belgium creates an opportunity to meet people from various cultural backgrounds. In addition, tuition costs are affordable. The Embassy keeps in touch with former students of our universities and has created an alumni network, currently consisting of about 60 people. I plan to host a reception for our alumni network in December, if Covid allows. There is also well-developed contact between ADA University and various Belgian institutions.
Cooperation also encompasses culture. We hope to be in a position to organize cultural events next year, to celebrate the 30th anniversary of our bilateral relations. This year, I plan to show a Belgian comedy film, in collaboration with "Bakou Francophones", on loan from 'Wallonie Bruxelles International" (one of our regional Departments for culture). The film will be shown in its original language, but with Azerbaijani subtitles.
Belgian companies are working here in different sectors. For example, construction company Besix has built the SOFAZ headquarters. A 20-megawatt solar power plant in Nakhchivan, inaugurated in November 2015 by President Aliyev, was installed by the Belgian company Soltech.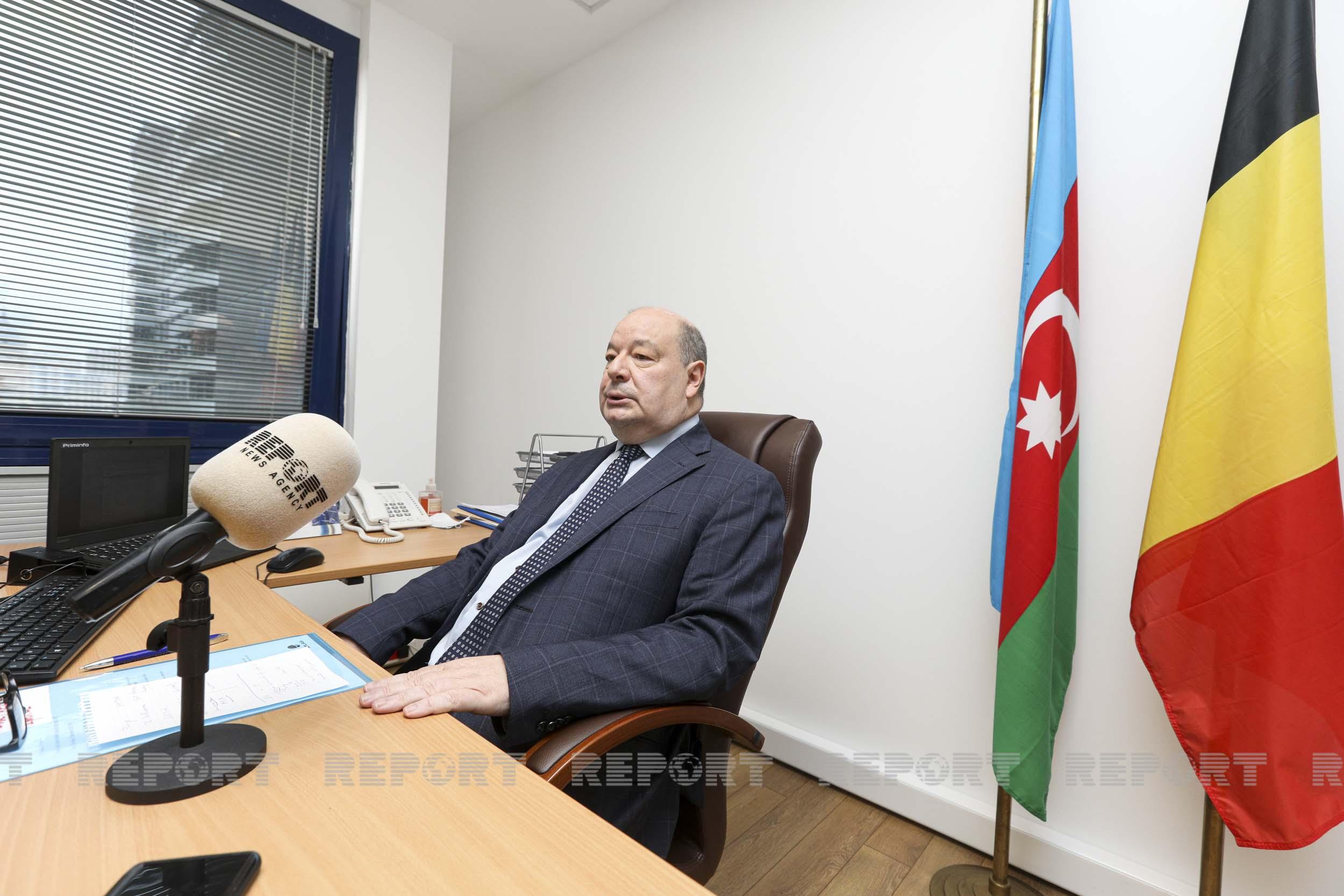 The Port of Antwerp and the Port of Baku, which I visited last week, are linked by a memorandum of understanding, signed in 2016 and renewed in 2021. In this framework, courses and training are organized. As one of the leading seaports in the world, Antwerp has extensive knowledge and experience to share in port management, and ecological improvements.
There are other examples of economic cooperation, sometimes in very specific sectors. In Belgium, there are quite a lot of SME's, which are at a top level in their respective domain of excellence.
A trade mission organized by our trade representatives in Istanbul is foreseen for next year. Belgian companies have a lot to offer in the field of energy, including renewable energy sources, environment, health, logistics, agriculture, water treatment, new technologies, etc.
As Energy Minister of Azerbaijan Parviz Shahbazov earlier said, the participation of Belgian companies in Azerbaijan's tenders on renewable energy sources (RES) will create new opportunities for cooperation. How does the embassy promote this possibility?
As a small Embassy, our role is to collect as much information as possible about the legal framework, investment climate and trade regulations, i.e. all elements which affect, in one way or another, foreign business in Azerbaijan. We are very grateful for all elements provided in this respect, including about tenders open to foreign companies. This true for the energy sector, but for others sectors as well.
We also have to help our companies, SME's especially, to identify market opportunities in Azerbaijan.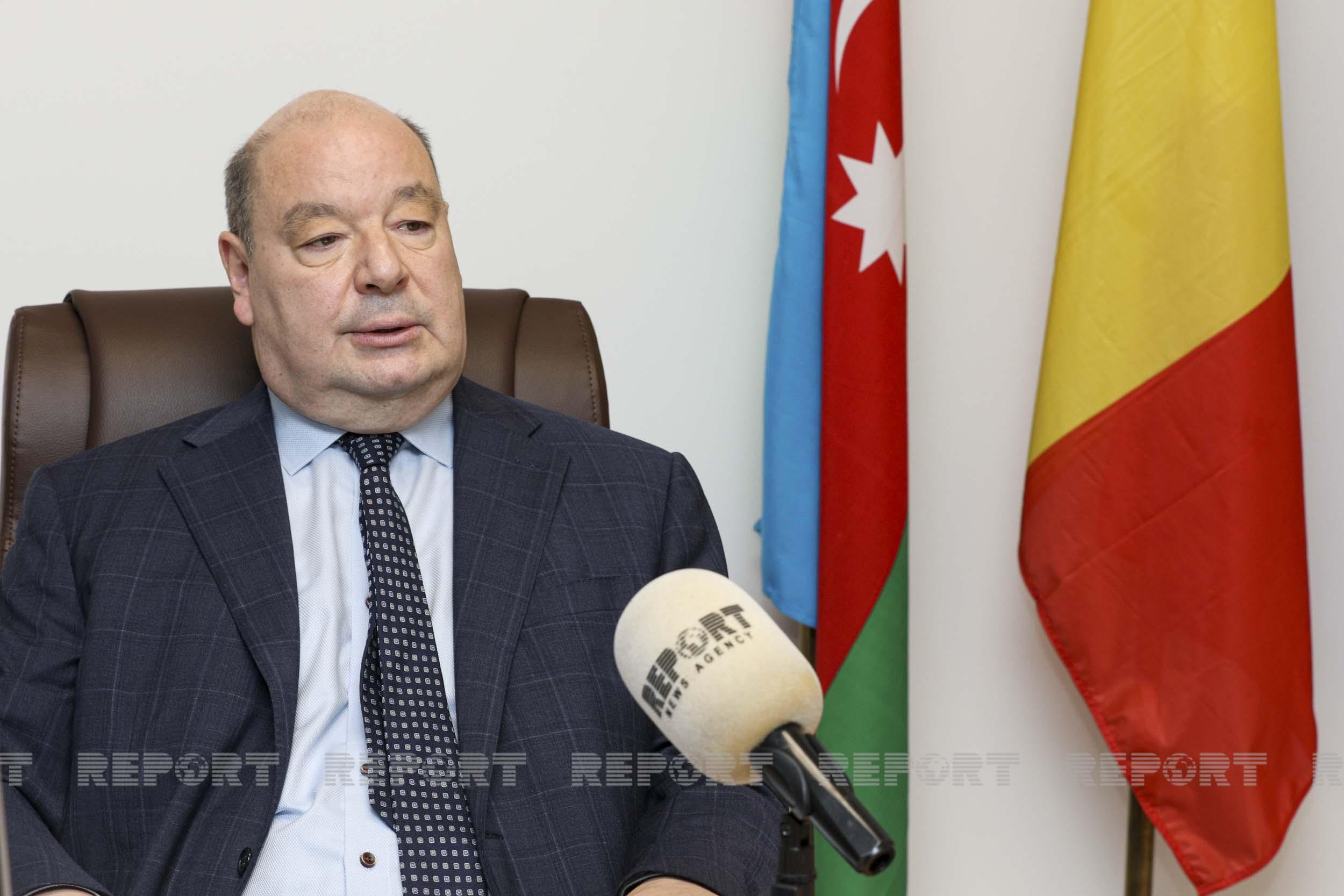 Belgian company Fluxys holds 19 percent in the Trans Adriatic Pipeline (TAP), which is the European leg of the Southern Gas Corridor. How do you think the launch of the Southern Gas Corridor affected the energy cooperation between the two countries?
Even though the gas from Southern Gas Corridor does not go directly to Belgium, this gas corridor has great importance for the export of gas from Azerbaijan (and perhaps in the future, Turkmenistan) to Europe.
This corridor will influence the market of gas and its prices, which are now very high. Of course, Belgium is interested in that project.
Can we expect the participation of Belgian companies in the restoration process of Karabakh?
We have already received positive signs from a number of Belgian enterprises. Key element is information. As soon as Belgian companies are aware of the needs, they will be certainly interested.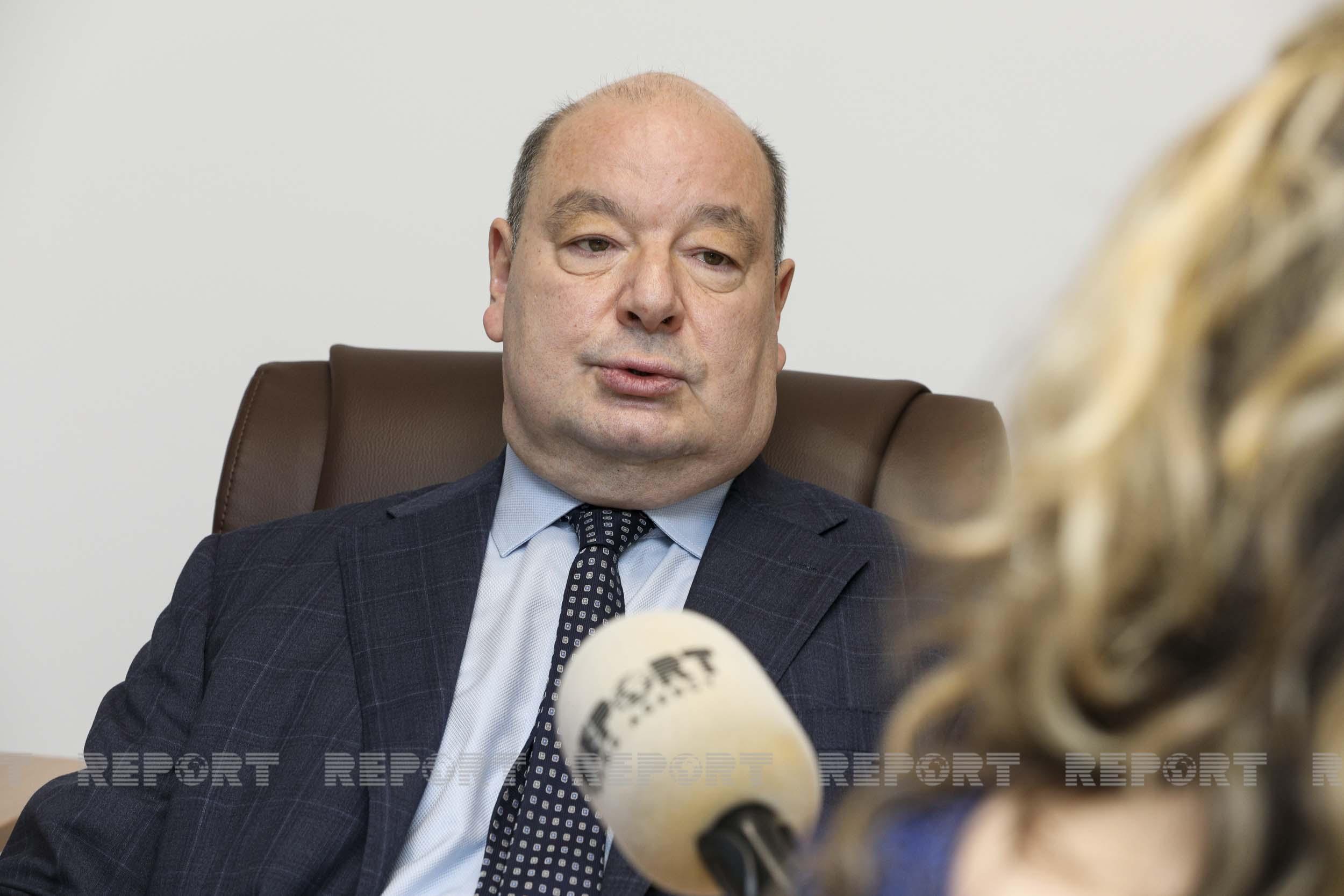 One of the obstacles to reconstruction is the presence of mines and other unexploded ordnance. Belgium is a steadfast supporter of mine action. As the first country to prohibit antipersonnel mines in 1996, it played a pioneering role in the fight to ban these weapons, and contributed largely to the adoption of the Antipersonnel Mine Ban Convention, in 1997. People suffer the most from this weapon. They still risk being hurt or killed a long time after the conflict is over. As participant of meetings of the Ottawa Convention between 2006-2009, I met victims of these weapons in different places of the world. I admired their courage. I strongly hope that these weapons will no longer be used: they are invisible and can move as the result of heavy rain or other natural events. As a result, it is very difficult to know where they are really located.
What steps will you, as a new ambassador of Belgium to Azerbaijan, take?
My mission as Ambassador is manifold, but at the center of it, I would cite the "human element". You have to meet people, to develop interpersonal relations. As Ambassador of Belgium, I serve the interests of my country, and, as Ambassador in Azerbaijan, I also try to be useful to the country where I live, by identifying matters of common interest.