This year, the Georgian citizens traveled to Germany for seasonal work for the first time. The initiative was supposed to help in the fight against unemployment, but labor migrants almost immediately started to have problems.
According to the National Statistics Office of Georgia, in the first quarter of 2021, the unemployment rate in the country was 21.9 percent (an increase of 3.7 percentage points [pp] over the year). It is more difficult for urban residents to find a job - the unemployment rate among urban residents is 23.65 percent (+5.7 pp) versus 19.3 percent (+0.4 pp) in rural areas.
The problem with high unemployment in Georgia is not new, and the founder of the ruling Georgian Dream party, Bidzina Ivanishvili, proposed an initiative regarding seasonal workers three years ago.
Starting this year, Georgian migrants can travel for temporary work in Germany and Israel. Similar discussions are underway with Greece, France, Portugal, Spain, Czech Republic, Croatia, Cyprus, Hungary, Belgium, and Finland.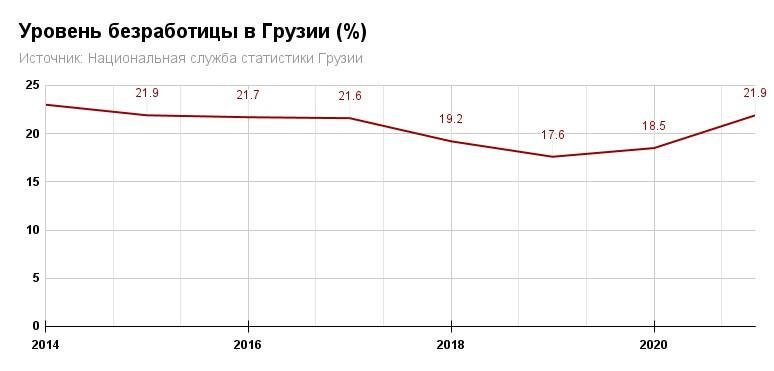 What went wrong?
In Germany, Georgian citizens had to work for 1-3 months, 5-6 days a week, and 8-10 hours a day. For this, they would receive 9.5 euros per hour (excluding taxes, food, and accommodation fees). The demand turned out to be colossal. Almost 100,000 people registered on a particular portal for this purpose! Of course, it is impossible to send everyone to work. Initially, the plan included about 500 labor migrants, then Germany increased the quota to 5,000 people.
However, when the labor migrants arrived in Germany, it turned out that no one was going to pay them. The situation was quickly resolved - they were transferred to another employer. But he also violated the terms of the contract and paid for the amount of the crop, not for the hours of work.
A few days ago, it became known that the German consulting service 'Miram' brought a claim on behalf of the citizens of Georgia to the labor lawsuit court of Friedrichshafen on the issue of compensation for salaries.
This was the first flow of labor migrants to Germany; further prospects for cooperation in this direction largely depend on the results of the court proceedings. By the way, the situation in Israel seems to be better. At least there is no news from there yet.
Few jobs open in Georgia
There are difficulties in creating new jobs in Georgia. More precisely, jobs are being created, but they don't correspond to the rate of economic growth.
According to the World Bank (WB), the number of working people in the country in the first quarter of 2021 decreased by 10.5 percent year-on-year. But the current numbers are understandable - many countries haven't yet recovered from the coronavirus.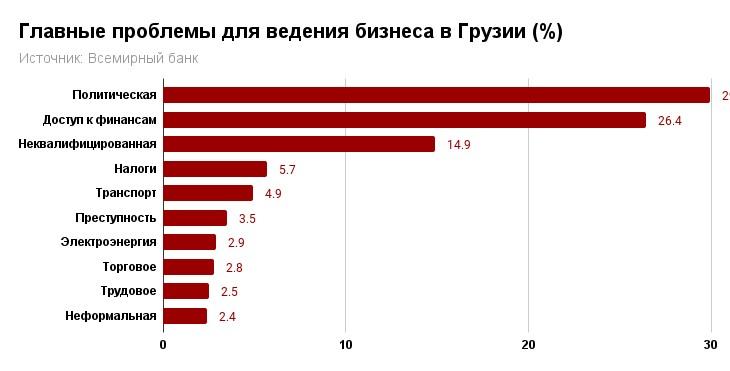 On the other hand, in one of its reports, the World Bank noted that micro and small enterprises in the country, although they open with a high frequency, cannot grow to medium size and often simply close. A similar situation is observed with medium-sized companies.
According to the latest WB survey conducted from March 2019 through January 2020, the main problems for business in Georgia still include political instability (since 2013, this item has traditionally been at the top of the list), access to finance, a qualified workforce, high taxes, and transportation problems.
All these factors put pressure on companies, resulting in the current situation.
What alternatives does Georgia have?
The creation of permanent jobs is the primary tool in the fight against unemployment, but not the only one.
For example, it is possible to get involved in community service within the country. This is one of the ways to combat unemployment that exists in Azerbaijan. In 2020, about 90,000 people were engaged in paid public works.
Employment, in this case, is incomplete - half a day or several times a week.
Self-employment is another method that is actively and quite successfully used in Azerbaijan. The self-employment program has been operating in the country for several years. Citizens receive from the state the assets they need to get started. It can be livestock, sewing supplies, etc.
In 2020, 12,000 people were involved in the self-employment program in Azerbaijan, this year – 16,000 families.
Encouraging private entrepreneurship can also be an excellent way to stimulate job creation. It is not so much essential to provide benefits as to conduct educational work - courses for entrepreneurs on financial literacy, business, accounting, management, and others.
It is not enough to start your own business, and it is essential to understand how to keep it afloat.
Retraining employees in areas where there is a shortage of labor. As noted above, the incorrect allocation of resources across sectors of the economy is one of the obstacles to developing the labor market. Retraining or advanced training centers could partially help solve these problems.
Last year, the labor market received an additional burden due to the coronavirus pandemic. About a third of people who were officially employed in any work could not work due to various restrictions associated with the coronavirus. In such a situation, more flexible working conditions are needed in Georgia to ensure permanent employment for a part of the population.
In addition, employment services, unemployment centers, or vocational retraining centers should take a different approach to job seekers - literally guiding them from advanced training to finding a job, as is the case, for example, in Sweden.
Azad Hasanli, analyst